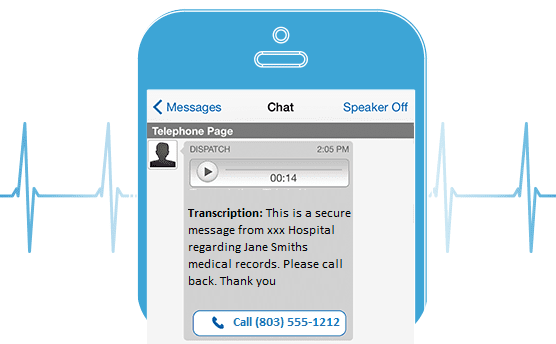 Solutions
For Doctors
For Chiropractors
For Hospitals
For Physicians
For Healthcare
After Hours Support

Medical Answering Service For Doctors, Hospitals, And Healthcare | MAS
Your one-stop answer for medical answering service (MAS) solutions. Connect your callers with friendly, intelligent agents that will leave a lasting impression of professionalism and kindness. Describe your needs and how you need your medical calls managed and we'll get you same-day quotes from the nation's most trusted medical call centers.

Medical Call Service helps you find reliable medical answering service solutions for doctors, clinics, nursing homes, hospices, physicians, and other healthcare industries. Learn More
From healthcare practitioners to specialists, professionals in the medical industry deal with situations that are extremely stressful, sensitive, and important in their patients' or clients' lives. A 24/7 medical answering service helps health care professionals offer a higher level of service to their patients. From scheduling appointments to handling call overflow, we can help you to reduce stress by carefully handling sensitive information and ensuring that urgent matters are directed to the appropriate parties. A live medical call answering service can help callers make the absolute best of what are sometimes difficult situations.
We want your patients' experiences to be positive ones, even in the face of the concern that can come from dealing with a medical situation. Agents are trained to give every caller personalized attention to ensure that their concerns are addressed in the most effective way possible. Our call center partners are trained to listen carefully, to stay engaged with patients, and to treat every caller to your practice with the respect and attention to their reasons for calling that they deserve.
Medical Call Center & Answering Service Solutions:
ENT (Ear, Nose, & Throat)
Podiatrists
Ophthalmologist Offices
We believe that the key to ensuring that calls end with the best possible outcome is to treat callers like patients, not clients. Our belief is that the best patient care starts the moment that someone picks up the phone. With attention to detail to ensure that patient calls are responded to in the appropriate manner, while also treating the patient with compassion, our call center affiliates provide a positive experience to each and every person that calls your practice.

Remote receptionists are prepared to offer medical answering services (MAS) for organizations engaged in all aspects of the medical industry. Community health clinics, hospitals, individual clinician offices, and more can benefit from a quality medical answering service. Not only will this help ensure that your patients have their issues addressed in the most efficient manner by taking detailed notes, transferring calls when appropriate, and ensuring that all messages are delivered to the appropriate party, but it can also help improve your bottom line. We're confident that the services offered will make good financial sense for anyone working in the health care industry.
Detailed note-taking and call recording ensure that important patient information is never lost. In addition, your medical call answering service understands the legalities and best practices associated with protecting client confidentiality. HIPPA guidelines are adhered to at all times to ensure that your patients always retain all of their rights to privacy, and that your practice is always in compliance with applicable regulations. Serving All 50 States
Medical experts have probably heard a thing or two about medical answering services. They probably even think they have a pretty good idea of what exactly they are.
The truth, however, is that there is always more to know. Sometimes people just don't have the full scoop on what a product or service can offer them.
And, believe it or not, a medical answering service can offer experts in the medical profession more than they know.
So what are medical answering services? How do they work? Most importantly, how would they benefit offices and their patients?
What Is A Medical Answering Service?
Before talking about what an answering service provides, let's establish what it is. To put it simply, an answering service allows patients to contact doctors whenever they're in need of medical expertise.
To be more exact, patients speak with representatives who are trained to give them medical advice. These people represent doctors or offices when they can't take a call for some reason. If professionals choose a good answering service, these representatives will comply with HIPPA standards.
For patients, one of the appeals of answering services is that they're available 24/7. This means that they can always contact someone when they need information that allows them to manage their conditions.
Patients are also grateful for the opportunity to speak to a person rather than a computer. Knowing that there is someone on the other end of the conversation who is actively trying to help is reassuring.
There are both internet and call answering services on the market today. Call answering services, though, are arguably more accessible for certain demographics.
What Types of Services Do Doctors Answering Services Provide?
Some readers are probably wondering what the scope of answering services is. How involved in medical practices do they get?
Well, as was discussed in the last section, they take calls for medical offices. Their representatives give medical advice to patients at all hours of the day. The representatives are specially trained to provide this service, so doctors can trust their judgment.
There is more, however, to the services they offer. Medical answering services can also transfer emergency calls to doctors. This ensures that patients get the attention they need from the right parties.
A medical answering service can help patients schedule appointments with their doctors as well. This guarantees that patients can make appointments to meet up with their doctors even when they can't get in touch with them.
Further, many call answering companies provide bilingual medical answering services. Some of the representatives at the call center speak multiple languages (one of which is usually Spanish). These services make sure that language isn't a barrier to helping patients get the assistance they need.
What to Look for in an Answering Service / Medical Call Center
Now that people know what an answering service can offer, let's talk about some of the things medical professionals be looking for in call service. Technically speaking, most, if not all, of the call services should have the things on the following list. The world, however, is far from perfect.
That said, here are a few things that medical offices want to look for in any call service they rely on:
HIPPA-Compliant Representatives
To be honest, every medical answering service should be HIPPA-compliant. As a matter of fact, we're sure that all of them claim to comply with HIPPA's standards.
The fact of the matter is, though, that what companies say and what employees do sometimes differ. Some companies don't train their employees well, so those employees occasionally violate HIPPA privacy laws.
Even though it's doctors' representatives rather than them violating those laws, they're still representatives. Their actions can reflect poorly on those they represent. This is one of the risks medical offices take when they rely on answering services.
Fortunately, there are plenty of competent medical answering services out there. Offices just have to vet them properly.
Bilingual Call Answering Service For Physicians
We spoke very briefly about bilingual answering services earlier. We'd like, however, really drive the point home.
Yes, having bilingual call answering services is optional. Even so, the Spanish-speaking population in the United States is larger than some people recognize. The U.S. is actually the "second-largest Spanish-speaking country, second only to Mexico."
That is a massive number of Spanish speakers, and refusing to cater to that demographic is unwise. Investing in bilingual answering services will do offices better than harm in the long run.

Data Management & Protection From Your Call Center
Protecting patients' sensitive information is of the utmost importance. Yes, providing patients with excellent care arguably trumps that, but protecting that data is undoubtedly a close second.
For this reason, a medical answering service should take that data just as seriously as doctors and physicians do. They should have all manner of protocols in place to protect the info medical offices have shared with them.
Medical offices should heavily scrutinize an answering service's track record before allying themselves with them. They should make that these companies haven't had any serious data leaks in the past.
Furthermore, they should inquire about the technology that the company uses to secure its data. What tools are they using to keep hackers at bay? How much are they investing in protecting patients' data?
Needless to say, these aren't the only means of finding out how good an answering service is at keeping data secure. Medical offices can (and should) be as thorough as possible when screening answering services.
A medical answering service can be a great asset to any facility which offers medical assistance to the general public. It can everything from scheduling appointments to getting medical expertise easier.
Medical professionals should, however, hold answering services to proper standards. A medical answering service is only a medical answering service if it provides the same quality of protection and privacy as a medical office does.
Medical Call Service
12239 Santa Monica Blvd, Suite 104
Los Angeles, CA 90025