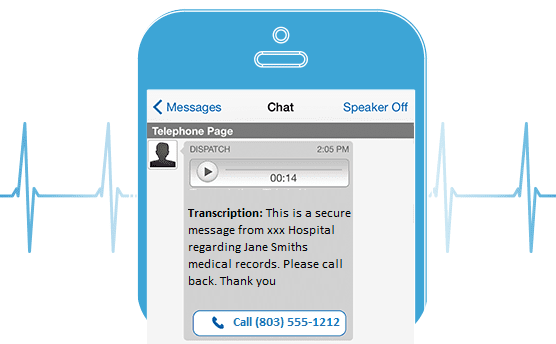 Solutions
For Doctors
For Chiropractors
For Hospitals
For Physicians
For Healthcare
After Hours Support

Call Center Services For The Medical Industry
Connect your callers with cheerful, intelligent receptionists in a medical call center that you can trust. Describe your medical messaging requirements and we'll get you same day quotes from the nations most respected medical calls centers. Learn More
We provide your customers with a high quality point of contact that is concerned first and foremost with patient safety, available every hour of every day of the week. When your patients and callers are supported after 24/7 that means the call center is providing the service you rely on. Our organization is experienced at dealing with every type of business that operates in the health care field, including pediatric centers, triage calls, community-based clinics, emergency rooms, and many more. Each virtual receptionist will treat your patients with the care and attention to their well being that you would try and provide them with yourself.
Read Our Latest Article Why Use a Medical Answering Service – The Benefits
Medical call centers use the most recently available cutting edge technology to provide the most integrated service possible to your patients. The contact center will ensure that all important messages are relayed to the appropriate parties within your medical practice, and are able to directly provide answers to a wide number of patient inquiries and urgent matters.
Medical Call Center Solutions:
Hospitals
Triage
Ambulance Service
Nursing Homes
Hospice
Nursing Homes
Family Physicians
At the heart of our organization are health care providers who put patient care at the front and center of every policy that is applied within the medical call center. We think when hiring a medical answering service that the patient-first mentality provides the best possible service to your patients, nurses, and other callers during the hours that your staff is fast asleep.

As experts in medical call center solutions, we feel that it is important that the contact center empowers a staff who are knowledgeable and well trained to provide the best possible service to your patients. We want agents to be able to answer as many of your patient's questions as they possibly can, and even more importantly, to be able to help callers in a wide variety of simple situations related to obtaining information or scheduling of appointments. We don't want agents to needlessly transfer calls, put people on hold, or take messages when there is no need to. The goal is to get to the heart of the matter and help every caller in the most immediate, concrete way that it is possible to.
Your medical call center is designed to be agile and flexible so that we can provide you with the service that will provide the most assistance to your practice, in whatever form that takes. Packages are available to fit all different types of coverage needs. In addition, our company prides itself on staying up to date with the latest industry changes so that you are always receiving cutting edge solutions from you call service. Whether it is a regulation change or a new piece of technology that can improve the service that we offer, our organization always strives to connect with only the most reliable inbound call centers that are on the cutting edge in order to provide you with the best possible customer service.