Medical Call Transfer Service For Doctors
A medical answering service can take messages, or have urgent calls patched through directly to the doctor on call. If your doctor's office needs some calls forwarded to a doctor on call, this solution is for you.
Want to increase the return on investment (ROI) of your medical practice's phone answering bill by up to 35%? Then it's time you looked into a call transfer service for your business.
Call answering services help doctors save time, money, and hassle by:
Lessening the amount of time it takes to address each caller's needs
Reducing unnecessary transfers that other call answering services charge extra for
Customizing your call transfer service to your exact needs
That's why we're guiding you through everything you need to know about a medical answering service.
Wondering if a call transfer service is right for your practice?
Compare Quotes
What is a Call Transfer Service?
Call transfer services exist for nearly any industry or business you can think of. And medical practices are no exception. But you may be wondering: what exactly is a call transfer service and how can it benefit your business?
A physician call service will answer all of your incoming phone calls so you don't have to. And they don't simply take a message for you to call back later. Using your directives, the call answering service will forward the incoming caller to someone in your office.
What's more, a call answering service only utilizes the most professional staff. This means you also get a high level of professionalism and customer service that will make your business stand out to current and prospective patients alike.
Here's another reason a call transfer service is an incredibly smart investment: these companies are trained in HIPAA standards. If you struggle to find a receptionist you can trust to secure your PHI, you already know how important this is.
How Does a Doctor Answering Service Work?
When you use an answering services company in your workplace, here's how you can expect the process to go:
You set up your phone systems with the call answering services company
Incoming calls are forwarded to a remote receptionist, who answers with your preferred greeting
You can ask that the remote receptions be trained in answering your patients' questions and/or scheduling appointments for you
When a caller is looking to speak to someone at your business, the remote receptionist transfers the call during the pre-determined times or for the particular type of call it is
It really is that easy!
Benefits of Medical Call Transfer Services
Still not convinced that a call transfer service is right for your medical business? Let's check out some of the other benefits of physician answering services.
Calls When You're with a Patient
When you're busy with patients, a physician answering service remote receptionist will answer your calls for you. They'll send them to your voicemail or take down a message themselves. That way, you'll never miss an important call again.
After-Hours Services
Yes, that's right: a physician call service answers your phone 24/7. That means your patients will talk to a live representative of your business even when they call in after business hours. This quality of a call answering service is especially helpful for improving customer service scores.
Emergency Calls
So a family member or local specialist rings you up about an emergency. These calls are important and you don't want them going straight to voicemail when you're too busy to answer the call. With a doctor answering service, you can have these calls patched to your cell or to your office phone, even when you're busy.
Features of a Good Medical Call Patching Service
There are many medical call transfer service companies out there. But not all of them are created equal. When shopping for the right service plan, here are some factors to look for in a high-value call transfer service.
1. Time of Day Routing
A good call answering services company will offer you the option to route calls differently depending on the time of day.
You can set up instructions for answering after-hours vs working hours calls. You can also set up different instructions during the days you're busiest or the times you usually have the most appointments.
This feature should also include how the remote receptionist says your business greeting. Think about it: "Good morning, Doctor Smith's office, how may I help you?" vs "Good evening, Doctor Smith's office, how may I help you?"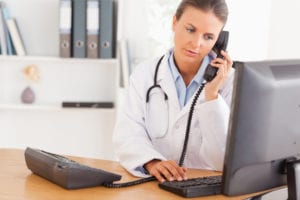 2. Type of Call Routing
You'll want to treat a patient calling about an emergency differently than a pharmaceutical rep requesting an appointment next month. A physician incoming call answering service can help you react to these calls differently.
For example, your remote receptionist can offer a menu of options for callers to choose from. They choose the reason for their call before being forwarded to the proper line. This means you can always answer your patients' calls yourself while also sending any non-patient calls to voicemail first.
3. No-Answer Routing
So, what happens if your remote receptionist forwards a call to a physician who just stepped out of the office? The good news is you have options:
Sending the caller to the physician's voicemail
Taking a message for the physician and texting it or emailing it to them
Scheduling an appointment, answering questions, or sending over resources to the caller in place of the physician
This is arguably one of the most valuable resources for a doctor. Especially since 80% of callers who get your voicemail are going to hang up. Yikes!
Medical Answering Services for Physicians
Have you decided that a call transfer service is the right move for your medical business? Request a quote from Medical Call Service and discover how you can boost the return on your investment in 2020!
Compare Quotes